Wood countertops are not as popular today as natural stone countertops like marble and granite. Yet, nothing provides the same look and feel of wood countertops. They have a loyal following and they continue to be utilized in kitchen designs with diverse styles.
Many people love the look and texture of real wood countertops and don't mind the reconditioning necessary to keep them looking their best. For others, this ongoing maintenance is too much work. The question is, which person are you?
Read further to understand the distinct qualities of wood countertops.
Types of Wood Countertops
There is some confusion surrounding the term "wood countertops". Some people refer to all wood countertops as butcher block countertops. Instead, there are two main types of wood countertops: butcher block, wood slab, and wood plank.
Butcher Block Countertops
These consist of small pieces of wood that manufacturers fuse together to form a solid whole. There are three types of butcher block configurations of wood: Edge grain, end grain, and face grain.
Edge Grain – Edge grain countertops are the most common type of butcher block countertops. These feature small pieces of wood placed end to end to create a continuous pattern of wood strips.
End Grain – End grain countertops feature wooden slabs made from small square pieces of wood joined together to create a complete board. This type of butcher block countertop is the most expensive as the labor is more intense. They also use more wood for this kind of countertop.
Face Grain – For this kind of countertop, fabricators place wood planks flat and then glue them together to form a seamless whole slab. This type of countertop highlights the beauty of wood grains. Face grain countertops are not as durable as edge grain and end grain.
---
Wood Slab Countertops
Wood slab countertops feature one solid piece of wood that manufacturers cut for the countertop. There are two main varieties of wood slab countertops: live-edge and cut edge.
Live-Edge – The most popular type of wooden slab countertops feature a natural edge, also called a live-edge. This is when the fabricator leaves the natural contours of the wood on at least one side of the countertop. This is popular in rustic types of kitchens.
Cut Edge – Cut edge countertops are those that use a single slab of solid wood with both edges trimmed.
---
Wood Plank Countertops
Wood plank countertops are similar to face grain butcher blocks in that they feature wide planks that fit side by side. The difference is that each plank is an individual piece rather than fused together like they are for face grain butcher block. This is a cost-effective option for countertops, but it can lack the durability of other wood countertops.
---
Common Wood Varieties Used in Wood Countertops
There are many varieties of wood used for wood countertops including domestic and exotic hardwoods. Here are some of the most common varieties of wood types used for countertops.
Maple – Maple is one of the most popular types of wood for wooden countertops. It is a hardwood that is more cost-effective than other more exotic wood types.
Oak – Oak is one of the hardest of wood types. There are variable colors from red to white. It is also a cost-effective wood choice.
Birch – Birch is a durable and versatile hardwood for countertops. It is a hard wood with a fine wood grain.
Walnut – Walnut is a prized variety of wood for countertops. It has wide color variations from rich golden to almost black.
Teak – Teak is a native wood from Mexico. It has a rich color and contains a high oil content that makes it ideal to counteract moisture.
Cherry – Cherry is a North American hardwood. It is prized for its rich color and fine grain.
Wenge – Wenge is an African hardwood that people prize for its hardness and dark color.
Hickory – Hickory is the strongest of American hardwoods. It resists scratches, gouging, and staining. It has a light to medium tone.
---
Cost of Wood Countertops
According to HomeAdvisor, the average cost of wood countertops ranges from $20-$70 per square foot. Teak tops out the list from $100-$200 per square foot. Domestic hardwoods like maple and cherry are some of the most cost-effective from $20-$100 depending on the wood cut.
---
Care and Maintenance of Wood Countertops
Some people are turned off from having wood countertops because they perceive the constant maintenance. Others value the beauty of countertop wood so much that the care is not an issue.
Choose the Right Type of Wood Counter for Your Needs
Not every wooden countertop is created equal. Consider these factors before you decide which one will suit you.
Strength – If you are looking for a surface that is hard-wearing for a prep area, an end grain wooden counter is the hardest option for wood countertops.
Expense – Wooden countertops are some of the best DIY options for countertops. Of all the different varieties, wood planks are the least expensive way to build a wood countertop. This construction type creates a great looking counter, but it is not the most durable option. It is best to use a cutting board to prepare food rather than on the surface of this type of counter.
Beauty – If you are looking for a countertop with simple beauty in mind, it is hard to compare to a live-edge wooden countertop. Live edge countertops can vary in terms of strength depending on what type of wood you use. Because of the variable size of the wood, these types of countertops are better for island installations.
Finish Options
There are various finish options available for wood countertops. Choose a finish according to the final look and the amount of maintenance they require.
Oil – Oil is a natural finish that you rub onto raw wood to create a barrier against moisture and food particles. The most common type of oil is food grade mineral oil. Another option is tung oil. Pure tung oil is one of the best for wood surfaces. It hardens and enhances the natural color of wood. You must reapply oil finishes every 4-6 weeks to keep the wood conditioned.
Oil and Wax – This finish includes oil with an addition of beeswax. This finish has the penetrating quality of the oil with the protective quality of beeswax. This finish must also be reapplied on a 4-6 week basis.
Tung Oil and Resin – Waterlox is a brand name variety of tung oil with the hardening properties of resin. This creates a much more durable finish than just tung oil alone. This finish lasts much longer. Reapply this finish between 2-10 years depending on personal taste.
Danish Oil – Danish oil is a misnomer because it is a mixture of oil and varnish. This creates a more durable finish than just oil. You would need to reapply a danish oil finish every 3-4 months.
Stain – Stain enhances the wood grain and can change the color of the wood according to preference. You do not need to use stain, but it does enhance the wood grain. If you use stain, you will need another finish applied to protect the wood.
Polyurethane – Polyurethane is a liquid plastic finish that creates a durable and long-lasting surface. Choose a food grade polyurethane if you are planning to prepare food on the surface of your counters. There are both water-based and oil-based polyurethanes.
---
Cleaning Wood Countertops
Clean wooden countertops each day to prevent moisture or crumbs from damaging the surface.
Each Day, wipe the countertop with a damp cloth and a little dish soap. Then wipe it with a clean, damp cloth. Sanitize your counters by spraying a solution of 1 part white vinegar to 4 parts water onto the wood. Wait 10 minutes and then wipe it away.
Don't use cleaners that contain ammonia or bleach. These can harm the finish.
Remove stains and odors by sprinkling on a good amount of table salt. Using a lemon quarter, rub it into the surface while squeezing lemon juice on the countertop. Let it sit and then wipe it clean.
If you have a scratch, use a colored paraffin wax stick in a matching color to fill the groove. Using a plastic scraper, remove the excess and buff the area with a cloth.
For deep cuts and burns, it is necessary to sand the surface. Start with coarse sandpaper, moving up to finer grits and ending with very fine grit. Finally, reapply oil or an oil-wax blend and buff.
Maintenance of Wood Countertops
Common sense measures will protect your wood countertops from harm that you might inflict over time.
Wipe up spills as you see them as moisture may harm the finish on your wood countertops.
Do not put scalding dishes onto your countertops. Instead, use trivets and heavy potholders so that these hot pots and plates will not cause scorch marks on the counters.
If you want to avoid cuts and scrapes, do not use your wooden countertops for cutting and preparing food. Instead, use small cutting boards for this purpose.
Make sure to reapply the finish for your countertops. If you are using an oil, oil and wax, or Danish oil, reapply every 4-6 weeks or every 3-4 months.
---
Wood Countertops: Pros and Cons
Consider these quick pros and cons to decide if you think wood countertops are a good choice for you.
Pros
Available choices – The list of woods to choose from for countertops is long. Also, the available types are multiplied when you add in the options for stains, grain styles and edge treatments.
Versatile – Wood countertops work well with all décor styles and mix well with other countertop materials. They are at home in modern kitchens as they are in country style or transitional styles.
Warm and quiet – The natural qualities of wood have long been valued and are sometimes called the "antidote" to too much stainless steel and stone. Wood countertops are quieter than many others because banging is not so pronounced.
Eco-Conscious – Wood countertops are increasingly being made from reclaimed wood, and most types are recyclable. You can also choose Wood that is certified by the Forest Stewardship Council (FSC certified). These products are verified to be sourced from managed forests that sustain resources and the communities that produce them.
Cost-effective – Wood is more cost-effective than other natural types of countertops. It is also a great DIY option.
Cons
Maintenance – You must keep up the finish to protect the wood on countertops. Also, wood must be kept very dry around sink areas and spills must be wiped up right away.
Scratches and Dents – Wood is softer than most other surfaces like tile, stone and metal. Scratches and dents will develop over time.
---
Creative Design With Wood Countertops
Consider some of these creative ways that designers have used wood countertops for kitchen spaces.
End Grain Countertop
End grain countertops are some of the most popular for food prep. They are also some of the most striking.
Wood Countertops With Marble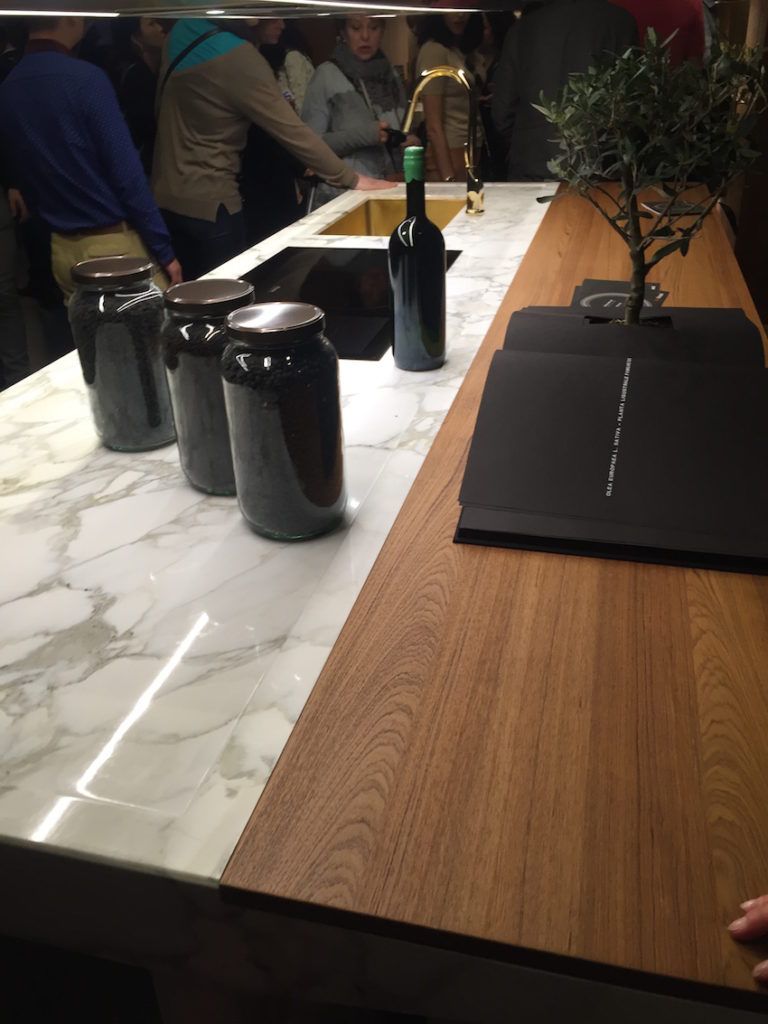 Wood is one of the most versatile countertop materials. It warms more sterile countertop types when you use them in combination with wood.
Larch Wood of Canada Countertops
This small Canadian company, Larch Wood, specializes in end grain cutting boards, countertops and floors.
Wood Countertop Extension
Wood is so versatile. It is an ideal material to create extensions from other countertops for tables and bar stools.
A Contrast Between Light and Dark
Pale wood countertops are a beautiful way to bring contrast and warm texture to a dark and minimal kitchen.
Frequently Asked Questions (FAQ)
FAQ
What are the most inexpensive wood countertops?
The most inexpensive wood countertops would be wood plank countertops made from pine. These are not recommended for kitchen wood countertops as they are too soft, but they are good for laundry rooms, mudrooms, garden sheds, and butler's pantries.
Where can I find an unfinished butcher block slab?
You can find unfinished butcher block counters at both Home Depot and Lowes. You can also find them at more specialty stores like Lumber Liquidators.
Are IKEA countertops solid wood?
No, they are a combination of wood and wood veneers.
Which is the best wood for wood countertops?
The best wood for countertops depends on who is asking and what their needs are. If the best means the most solid, look for hardwood varieties of wood like hickory, Brazilian Cherry, and Hard Maple. If the best means the most striking, look for exotic woods like Tigerwood and Zebrawood which have unique grain patterns. If you are looking for an all-around best, look no further than maple. This is a hard wood with a tight grain. It takes stains and finishes well and it is one of the most cost-effective wood varieties.
Conclusion
Wood countertops are a versatile and gorgeous option for your kitchen, laundry room, or butler's pantry. Their warm color and texture make the ongoing maintenance more palatable to many people. The maintenance is not difficult but it can be constant depending on your finish choice.